The Canberra Region includes ten municipalities: Bega Valley Shire, Eurobodalla Shire, the Goulburn Mulwaree Council area, the Hilltops Council area, the Queanbeyan-Palerang Regional Council area, the Snowy Monaro Regional Council area, the Snowy Valleys Council area, Upper Lachlan Shire, Wingecarribee Shire and the Yass Valley Council area.1
And so it has a massive land area of 63,319 km2!2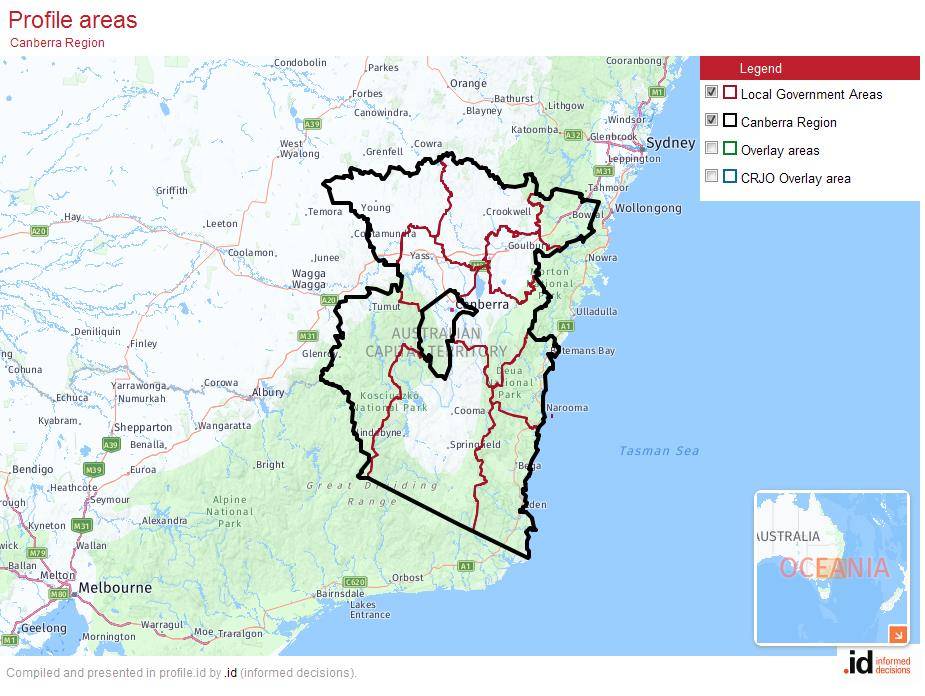 Luckily, Canberrans don't have to travel far for a quality drop.
Murrumbateman is around 40 mins north from the Canberra CBD, making it a viable Canberra day trip exploring local quality wines. Even better, the Murrumbateman wineries are all located 5-10 mins of each other so less travel and more winding down.
Murrumbateman is home to some of Australia's finest wineries, where you can taste a wide range of award-winning wines made from locally grown grapes. The cool climate of the region creates a unique terroir, resulting in wines that are elegant, complex, and full of flavor. Whether you prefer red or white, sweet or dry, there's something for every palate in Canberra's wineries. Many wineries also offer tours of their vineyards and cellars, providing an opportunity to learn about the winemaking process and the history of the region. So if you're looking for a fun and educational day out, head to Murrumbateman for some of the best wine tasting experiences in Australia.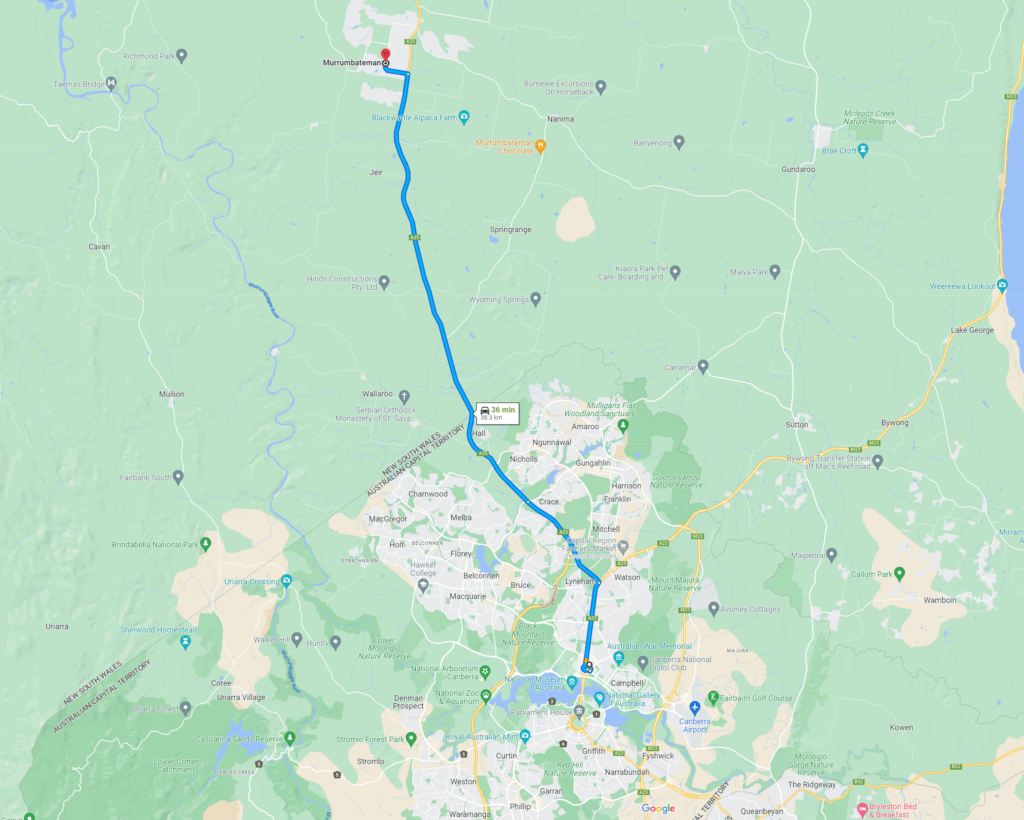 "…the number of great wines coming out of the region is disproportionately high when compared with most regions. These folks are really punching above their weight"

Nick Stock, in Gourmet Traveller Wine, April/May 2011
There are around 30 wineries in Murrumbateman, but not all have cellar doors for you to come in and taste some local Canberran wine.
Below, I believe I have compiled all the Murrumbateman wineries with cellar doors.
Murrumbateman wineries – not in any order:
"It has been a remarkable journey for Clonakilla. When John Kirk planted the first vines in 1971 he had no idea that his vineyard would one day be celebrated as one of the best in the country. Along the way there have been trials and tribulations as well as moments of unprecendented success. Over time something important has become clear: Murrumbateman and Shiraz are one of those rare combinations in the world of wine that can produce something truly exciting."
Fun fact: Cellar door is made from deconstructed wine barrels and local stone.
Address: 3 Crisps Ln, Murrumbateman NSW 2582
Phone: 02 6227 5877
https://www.clonakilla.com.au/
Detailed info: https://www.cellardoorscore.com/clonakilla.html
Review score at time of writing: 4.5 (https://goo.gl/maps/gKhJ4aFRXdw7wzxE7)
"The winemaking approach at Dionysus is simple; attention to detail at every stage of the process is paramount. For the floral white varieties cool fermentation techniques are in favour to emphasise the fruit characters. For the reds the emphasis is on warm fermentation, followed by 12 to 24 months in French oak barriques to soften the tannins and enhance the fruit flavours."
Address: 1 Patemans Ln, Murrumbateman NSW 2582
Phone: 02 6227 0208
https://www.dionysus-winery.com.au/
Review score at time of writing: 4.5 (https://goo.gl/maps/X2GbgwzQsCHzxJjF6)
"Eden Road is an Australian owned winery and estate based in the Canberra District cool climate wine region, only 30 minutes from the centre of Canberra. Our vines are grown across a collection of unique properties comprising different soils and altitudes, with grape varieties best suited to these conditions, to produce wines of varietal purity, finesse and complexity."
Address: 3182 Barton Hwy, Murrumbateman NSW 2582
Phone: 02 6226 8800
https://edenroadwines.com.au/
Detailed info: https://www.cellardoorscore.com/eden-road-wines.html
Review score at time of writing: 4.7 (https://goo.gl/maps/FtHRgsoKzQXXy7zAA)
"What started out as one couple's dream to grow and sell grapes has turned into an inter-generational family business. Four Winds Vineyard now grows grapes, makes wine and has a cellar door on site, so that you can come and sit amongst the vines and enjoy our wines with our delicious wood-fired pizzas."
Address: 9 Patemans Ln, Murrumbateman NSW 2582
Phone: 02 6227 0189
https://fourwindsvineyard.com.au/
Review score at time of writing: 4.5 (https://goo.gl/maps/emdvHZGJ1hK1UDQY6)
"Granitevale Estate offer beautiful wines, that are made and sold with pride and with an affection for the tradition and the processes that create great wine. Granitevale, however, do not operate to the norm. They are innovators and use the regions unique flavours and tones to create wines that surprise and delight all of the Estate's guests."
Address: 153 Magennis Dr, Murrumbateman NSW 2582
Phone: 02 6226 8700
https://www.granitevaleestate.com.au/
Review score at time of writing: 4.2 (https://goo.gl/maps/QTavSZ63zb3L7mmH9)
"Helm Wines, in Murrumbateman NSW, was established by Ken and Judith Helm in 1973. Ken is a descendant of German vignerons who planted vines in the Albury district in the 1850s. Helm Wines specialises in the production of award winning Riesling and Cabernet Sauvignon, and has a number of vineyards and wineries dedicated to these two varieties."
Address: 19 Butts Road, Murrumbateman NSW 2582 Australia
Phone: 02 6227 5953
https://www.helmwines.com.au/
Detail info: https://www.cellardoorscore.com/helm-wines.html
Review score at time of writing: 4.5 (https://goo.gl/maps/xa5pNRFZTHKpFH976)
"We have worked hard to create a new look label that shows both where our wines began and where we are going. The Royal Bluebell, now in gold, reminds us of Jeir Creek Wines' rich history. As the floral emblem for the ACT, it also continues our strong connection to Canberra. The rest is us, modern, yet classic."
Address: 122 Bluebell Ln, Murrumbateman NSW 2582
Phone: 02 6227 5999
https://jeircreekwines.com.au/
Review score at time of writing: 4.5 (https://goo.gl/maps/Vjn9LzBWxGwF5vDA8)
Long Rail Gully (temporarily closed)
"In more recent times, Gary, Barbara and Richard Parker have transformed Long Rail Gully into an amphitheatre like vineyard surrounding a beautiful trout filled dam."
Address: 161 Longrail Gully Rd, Murrumbateman NSW 2582
Phone: 04 1278 1044
www.longrailgully.com.au/
Review score at time of writing: 4.3 (https://goo.gl/maps/ZzRfuntcSRCZA5Bw5)
"McKellar Ridge Estate is a boutique winery and vineyard producing premium award-winning handcrafted wines that exhibit the unique characteristics of the Canberra cool-climate region: fresh fruit flavours, distinctive spiciness, crisp acidity. Husband and wife team John and Marina Sekoranja are the winemakers and owners of this highly regarded winery who are passionate in their pursuit to craft exceptionally elegant wines of distinction."
Address: 2 Euroka Ave, Murrumbateman NSW 2582
Phone: 02 6258 1556
https://www.mckellarridgewines.com.au/
Review score at time of writing: 4.8 (https://goo.gl/maps/djaBCKGLnVjZtqeg8)
"Established in 1973, Murrumbateman Winery is a small boutique winery producing high quality, award winning wines from locally sourced, handpicked grapes. True to the cool climate region of NSW and Canberra, Murrumbateman Winery makes outstanding and award-winning Riesling and Shiraz. Winemaker Bobbie Makin also has a passion for alternate varieties and enjoys crafting a selection of wines including: Fume Blanc, Malbec, Sangiovese, Cabernet Sauvignon and Tempranillo."
Fun fact: They have chunky doggos who like to play with visitors.
Address: 31 McIntosh Cct, Murrumbateman NSW 2582
Phone: 0432 826 454
https://www.murrumbatemanwinery.com.au/
Review score at time of writing: 4.6 (https://goo.gl/maps/VaDgonPLudjGxQF47)
"As you drive up Isabel Drive you immediately see the architectural lines of our building just peeking over the top of the trees. Turning into the driveway reveals the impressive building you've heard so much about and you have a chuckle at the bike riders pedalling and getting nowhere! The wide timber door opens to the cellar door foyer and here is where you can Expect the Unexpected."
Fun fact: There is an underground Wine Club Members Lounge.
Address: 34 Isabel Dr, Murrumbateman NSW 2582
Phone: 02 6227 5827
https://shawwines.com.au/
Detailed info: https://www.cellardoorscore.com/shaw-vineyard-estate.html
Review score at time of writing: 4.6 (https://goo.gl/maps/iqqpLbjYRphFm5js9)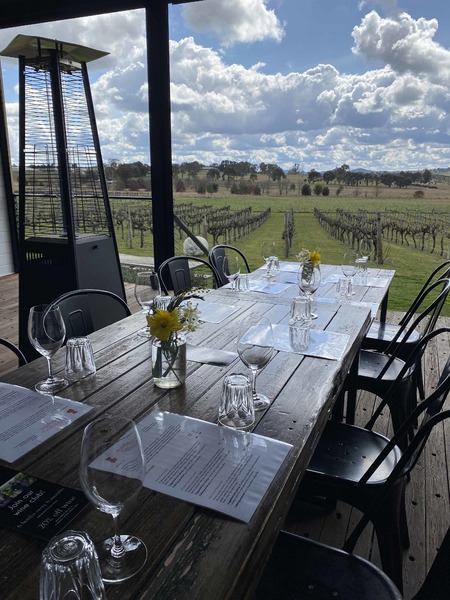 "The wines are made using the traditional methods Stephanie learnt from her father alongside modern methods learnt through her studies. Stephanie pursues an uncompromising approach to quality in her wines with any batches that don't make the cut distilled into spirit for use in our Fortified Shiraz. The white wines are made without exposure to oxygen and cool‑fermented in stainless steel so as to preserve delicate aromatics and fresh flavours of the fruit, without the distraction of oak."
Fun fact: Can do a farm tour also!
Address: 5 Crisps Ln, Murrumbateman NSW 2582
Phone: 02 6227 5592
https://thevintnersdaughter.com.au/
Review score at time of writing: 4.8 (https://goo.gl/maps/7tqNVnbb5TxDoFin9)
"Established in 1997, Yarrh Wines is located 45 minutes from Canberra and 10 minutes from the rural village of Murrumbateman, in the heart of the Canberra District. All wines are made from our own vineyard and bottled on site, in our beautiful rammed earth and straw bale winery, nestled into a hill and providing spectacular panoramic views of the vineyard and the Yass River Valley."
Address: 440 Greenwood Rd, Murrumbateman NSW 2582
Phone: 02 6227 1474
https://www.yarrhwines.com.au
Review score at time of writing: 4.5 (https://goo.gl/maps/YAm2m7wDeirQhNXo8)
Lost for choice but still looking to explore the vibrant capital city of Australia, why not consider taking a Canberra day tour to the Canberra wine region and support your local community? Let Merry Heart CBR suggest an itinerary and take you on a tour suited to your palate, food intolerances and preferred 'vibe'. These wine tours offer a fantastic opportunity to discover the region's rich history, stunning architecture, and beautiful natural landscapes. A Canberra wine tour takes you on a journey through the picturesque countryside surrounding the city, where you can sample some of the region's best wines. Whether you're a history buff, a wine enthusiast, or simply looking for a fun day out, a Canberra day tour or Canberra wine tour is the perfect way to experience all that this beautiful city has to offer.
So why wait? Book your wine tour today and get ready for an unforgettable adventure in Canberra!
Please comment below if I had missed anything.
DISCLAIMER: Merry Heart CBR does not guarantee that the Website will be secure or free from bugs or viruses or function without interruption or errors. The Website is provided on an "as is" and "as available" basis. You are responsible for configuring your information technology, computer programmes and platform to access the Website. You should use your own virus protection software. By accessing the Website, you assume all risks associated with its use, including but not limited to the risk that your computer, software or data may be damaged by any virus transmitted by the Website or by any Third Party Content or Third Party Website.. To the extent permitted by law, Merry Heart CBR excludes all warranties, guarantees, conditions and representations (whether express or implied) that may apply to the Website or any Content on it. Merry Heart CBR will not be liable to you for any loss or damage of any kind, whether in contract, tort (including negligence), even if foreseeable, arising under or in connection with: (a) your use of, or inability to use the Website; or (b) your use of or reliance on any Content or material displayed on the Website, including any direct, indirect, special, incidental, consequential or punitive damages, which includes, but is not limited to, loss of revenue or profits or business or anticipated savings, loss of use or goodwill or reputation, loss of data, even if such loss was foreseeable. Every effort is made to keep the Website up and running smoothly. However, Merry Heart CBR does not take responsibility for, and will not be liable for, the Website being unavailable due to technical issues beyond its control.